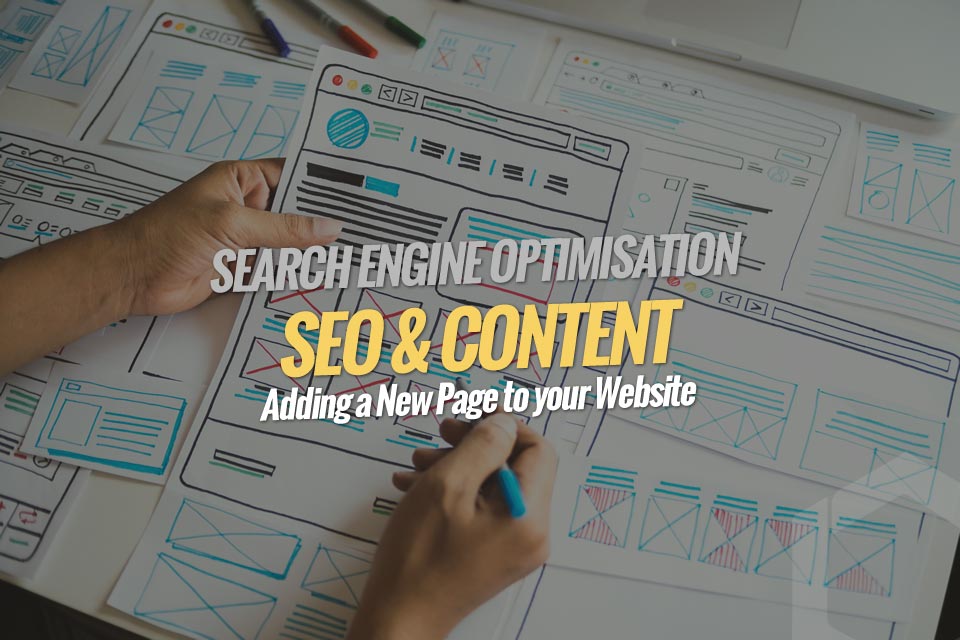 Adding content via a new page on your website is such a simple, effective way to share fresh new content out on the open web. There are many ways to do this, the possibilities in some cases are endless.
The right content boosts your website SEO (Search Engine Optimisation), increases your brand awareness and your site's visibility to search engines.
However you need to ensure the new content on the webpage provides value to the visitor and the website through insightful information.
So take the time to plan and create good quality content and avoid content that is light in depth, vague, low relevance to the subject matter or contains spammy techniques as these shortcuts will just get you nowhere.
ADDING VALUE
Adding value to a website via a new page can often stem through content that cannot be found anywhere else on your website. The content you have written should be a valuable resource to your visitor.
BENEFITS TO A NEW PAGE
Brand awareness
Search Engine Site visibility
Increased leads – enquiries
Increased conversions – more sales
Increased traffic – more visitors
Increase in website viewing time
Customer trust
Be seen as an expert
EXAMPLE IDEAS FOR CONTENT
Here is a list of page ideas you can use to add value to your website with a new webpage:
Frequently Asked Questions
New Service
Case Study
Portfolio Work
Latest Work/Projects Completed
Blog Posts
News Item
Review
Story
About
Relatable Topics
Article
HOW DO I ADD VALUE
So, let's take some inspiration from the examples above. Your business website is packed full of content and you have listed all your services, dived into who you are as a business, published reviews and shown off your latest work.
What more can you do? Well for a start what about adding an FAQ page to your website? You now have the ability to provide your visitors with answers to their common questions. In turn all this text content will be picked up by search engine robots, Google will love your fresh page of new content and get to work on indexing the page.
Your website's new ranking on Google is ready and waiting for any user who needs a question answered, in turn finding your website and trusting you as a business (based on the quality of your response). By building a relationship this way will stand you in good stead should the visitor require your services now or later.
POOR CONTENT
Duplicated content – regurgitating the same wording will be viewed as spam this will hinder you not help you.
Lacking word content – If the new page has little or nothing to crawl then you need to consider what the use of the page is for.
Vague content – Poorly written content that does not offer much value. Has the ability to go into detail yet does not.
Low relevance – Content that does not belong on the page – irrelevant to the page title and subject.
NEW PAGE EXAMPLE #1
Lucent Dynamics had built a Painter and Decorating company a website which largely aimed itself at residential work. The owner of the company grew the business and redirected their vision. The goal now was to seek larger contracts out by targeting the commercial market.
This task was simple enough by adding commercial copy to the website. On top of this a specific commercial page was identified where all aspects of commercial property were listed and expanded with text content. Every area was covered with text written outlining the work the company could undertake. For example, specialised wording was written on individual commercial properties i.e. Hotels, Industrial Units, Gyms, Large Halls etc
After the page was published it wasn't long until commercial contracts came through. One of these enquiries paid for the website's maintenance for many years to come.
Unbelievable value from such a simple task.
NEW PAGE EXAMPLE #2
Another example followed a Bournemouth based sign company. The website originally had basic but little information. This badly needed expanding to include project portfolio pages. These pages were loaded with all the work the company had completed in recent years.
This proved popular amongst visitors as they could now browse the sign companies work and view all the many types of projects on show.
By adding this content, we increased the chance that website visitors could trust the company, which it did as new sign enquiries started to appear in the business email inbox immediately after.
SUMMARY
Spending the time and energy on your brand and website is worth the effort, content isn't just for social media it can be cultivated on a website too. Remember the guidelines and publish unique useful relevant content that builds on your website's foundations.
NEED SOME ASSISTANCE
Why not contact Lucent Dynamics today for a chat regarding your website and how by using fresh content you can improve your website to the next level.
There are several ways we can help you out whether you need a review of your current website. We will make suggestions based on your current standing.
Or even undertake the work for you, freeing up your time to run your own business.
Interested? Have your website checked over for free today by sending us your website address or fill in the form below. We will reply with a prompt review of your website.