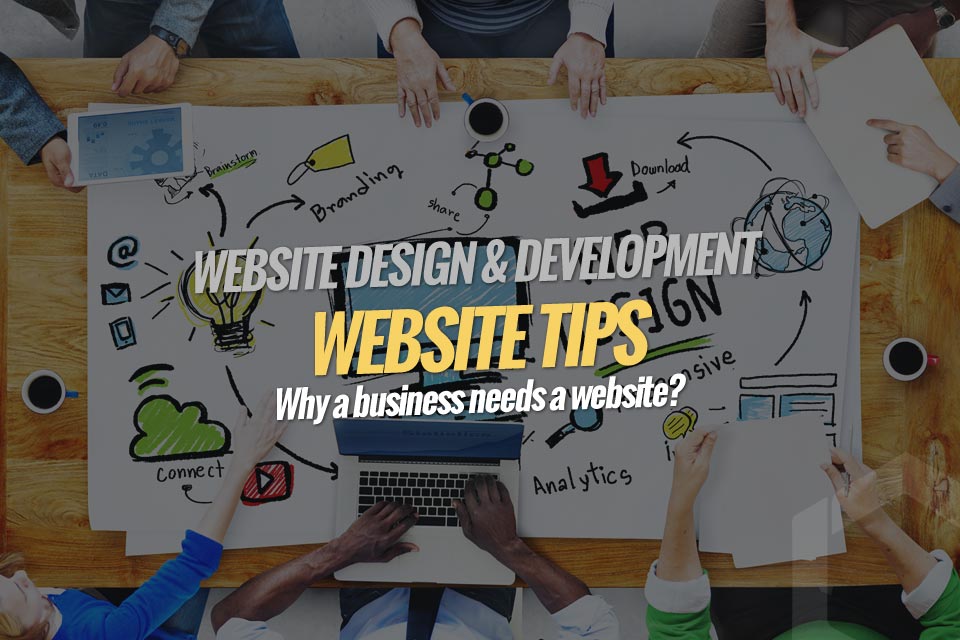 YOUR BUSINESS ONLINE
Online presence is everything nowadays, regardless of your area of expertise it is absolutely vital you have a website. Investing into a website and it's ongoing maintenance and promotion is a simple and powerful way to advertise your business. This article will offer insight into why you need a website and (more importantly) how you can use a website to your advantage.
A website is a cost effective way to advertise your services. The profit gained through web enquiries can be quite staggering when compared with running costs.
Websites CAN make your business look professional. However there are many businesses that have poorly designed outdated websites that may not truly represent their business. Designing and building your website in the correct way to the correct modern standards will see your website stand out from the crowd.
CREDIBILITY
One of the main reasons you should have a website for your business is to increase your credibility.
Without a website, people may question your legitimacy as a business. Having a website is an opportunity to make a great first impression and give people comfort that you're a real business.
People are far more likely to engage with a business they can trust, having a website is a good start towards building that relationship.
YOUR BRAND
Anyone at anytime should be able to search up your business and visit your online profile within seconds.
One of the first moments of customer interaction is your brand whether that is your name, logo, focal image, colour scheme. A website provides instant brand awareness around the internet through your name.
"In today's current climate if you run a business and do not have a website you are shooting yourself right in the foot."
SHOWCASE YOUR INFORMATION, PRODUCTS & SERVICES
A business website is your own place on the internet where you can tell visitors about you and what you do. This is one of the most important tasks you can do to establish your business in the market.
Information on business websites is often under used and lacking in detail resulting in inferior lead generation.
NEWS, ANNOUNCEMENTS, OFFERS
Keep your customers up to date on what you are doing. This should tie in with your social media efforts however in particular updates like latest news provide amazing SEO benefits (Google love freshly updated content). Again this is an area which is not utilised to businesses full advantage. News on websites are usually far out of date.
CONTACT DETAILS
Visitors can contact and find you through your website. This can come in many forms through contact forms, email, telephone links, message you through your social media, map locations with get direction capabilities.
The more options you provide allows visitors to contact you in a way that is suitable and comfortable to them. Including options make you seem less transparent as a business.
ATTRACT CUSTOMERS
Optimising your website increases your chances of search engine visibility on websites like Google and Bing.
Prospective customers can search services that YOUR BUSINESS offers and come across YOUR WEBSITE on the search engine results page (SERP).
With a correctly built and maintained website your chances of attaining page one ranking will greatly increase and in turn see your web traffic increase.
Let's say a potential client needs your service, unless they have a 'go to' source or recommendation there is a big chance a google search is incoming.
For example 'Builder [Insert Your Area]' 'Massage Therapist near me' 'Bike Repair shop [Insert Your Area]'.
If your website is not live, indexed and up in the rankings then your client will not find your business, your competitors will likely land the possible client.
EXAMPLE – Business Website Setup for Amelia Vocal Coach by Lucent Dynamics
A website is one of the most important assets to any business and has potential to become your main driving force of work. Take this example from a client whose website we designed and built from an idea back in early 2010
Amelia a Vocal Coach based in Moordown, Bournemouth approached us requiring a website that promoted singing lessons to the Bournemouth, Poole, Christchurch area.
It did not take long to gather the ideas together and produce a live working website which was submitted to search engines.
The website grew quickly into a success through achieving very high positions in the Google rankings.
Amelia was booking in lessons from local clients keen on improving their singing ability regularly and her business ambition started to thrive. The website success combined with Amelia's drive saw Amelia Vocal Coach expand into artist management and running a music studio in Wimborne.

Screenshot of Amelia Vocal Coach Website
WHERE DO YOU START?
Investing into your business with a website is a no brainer. In this day and age you really cannot afford not to.
There is an extensive list of options available to build a website. From do it yourself drag and drop makers (Wix, Squarespace, Shopify) to selecting one of the thousands of web designers to do it professionally.
When starting out it is important to consider the right option for your business from the get go.
Options to think about:
Your Goals
Long Term Plans
Short Term Plans
Web Developer Experience
Quality of the Website Build
Affordability
Frequency of Updates
Who manages the website
SEO (Optimise Website for Search Engines)
Analytics (statistics tracking)
Domain, Hosting, Security Certification
This process can seem daunting especially if you are starting from scratch. Before you make a decision it is advised to seek professional advice, make yourself a plan for your business and to draft ideas for your website.
NEED HELP? DO YOU NEED A WEBSITE FOR YOUR BUSINESS?
Here at Lucent Dynamics we take care of our customers throughout the process, guiding clients from initial domain name purchase through to revamping their website. We build quality, cost effective websites that are optimised for search engines and strive to provide a helpful, prompt and reliable service.
FREE CONSULTATION
We provide free consultations where we find out all we can about your requirements and then provide you with advice, suggestions on plans and proposals detailing what we can do for you and costs (no hidden fees).
Request a Quote
SIMPLY NEED TO IMPROVE YOUR EXISTING WEBSITE?
We can advise and implement ways to improve your website almost immediately.
Contact us today for a website audit.