Emerald Facilities Maintenance website designed, built & maintained by Lucent Dynamics
The Website
The Plan
Emerald Facility Maintenance was grown from the business Emerald Painters, over the years their business diversified into other avenues of work including building and facility work.
A website was needed to advertise the new services alongside Emerald Painters. To kickstart the business an urgent advertising campaign was incoming for their brand new antiviral fogging deep cleaning service.
Due to this pending advertisement campaign in the local echo we had to create a contemporary style wordpress powered responsive website in just 3 days.
Once live we continued to develop the website with additional pages and search engine optimisation.
During the going live process, we created all necessary profiles for google search engine console, google analytics, bing webmaster and google my business to kickstart the search engine indexing process asap.
Responsive Design
Clean Modern Website Design
Website Build Fast Turnaround
Promotional Video
Social Media Management
Video Promo
Using video media we planned, filmed, editted and published a promotional video for the advertisement of the Antiviral Deep Cleaning Service.
We took a minimal approach to this dynamic promotional video. Clear and concise was the goal.
We used simple informative text snippets attached to videos of the service in action. The backing track fitted the video overlays perfectly and all round everyone was pleased with the final HD video render.
Antiviral Deep Clean Promotional Video for Emerald Facilities Maintenance
Social Media Management
We already run the Emerald Painters social feeds on facebook and instagram.
We continued with the promotion however the focus this time was on the new services offered by Emerald Facilities Maintenance.
We are currently ongoing with analytics tracking and promotion through local advertising groups.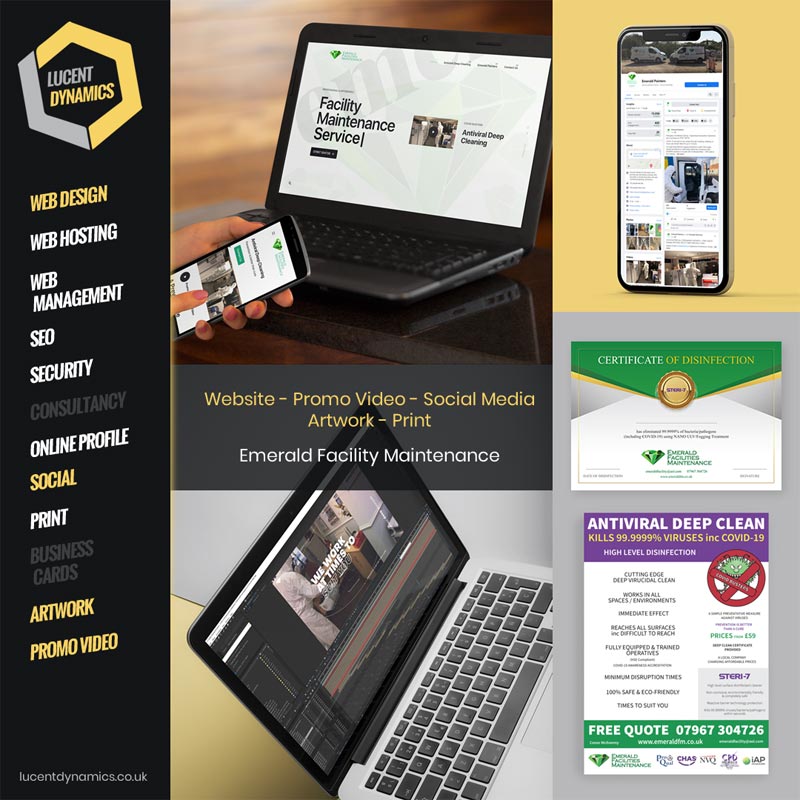 Printing
We have designed and printed flyers for Emerald to advertise their recent work around the local area.