Flying Colours Driving Lessons website designed, built & maintained by Lucent Dynamics
The Website
www.flyingcoloursdrivinglessons.co.uk
The Plan
Alan searched around for web companies to setup a website for his new driving school business in Thetford Norfolk. After he received a few quotes and demo websites Alan still needed help with a better outlook on setting up a website and what is required.
Alan approached us due to his time working for Flying Colours School of Motoring, after a few emails and chat on the phone we explained everything Alan needed to know.
We provided Alan with an in-depth detailed plan with options and recommendations. Alan loved what he saw and gave us the go ahead to get his business up online.
We setup a simple Flying Colours holding page with installation of google analytics. We created his google business listing along with various submissions to the search engines. This generated an enquiry before we even launched!
The full website is responsive, modern and speedy. It is built to promote his driving school online to the local area around Alan in Thetford.
Working together the content was drafted up over a few weeks, with various tweaking and additions made to the website on a website development server.
The website was launched and received positive reactions.
Alan Ralph

After contacting a few other website builders who left me totally confused I was fortunate to get the contact address of Lucent Dynamics. I found Daniel very efficient during the whole process he even designed business cards for me. If you are looking for a website look no further than Lucent Dynamics you will not be disappointed. Alan - Flying Colours Driving Lessons Thetford Norfolk
Services Offered
Responsive Design
Multi Page Website
Security Certification
Website E-mail Setup
Google Business Listing
Logo Design
Content Creation
Custom Imagery
Business Cards
Social Media Management
Business Cards
Flying Colours needed something small to hand out, after a quick chat a business card was preferred initially over a flyer. We designed and printed a simple full colour double sided laminated business card.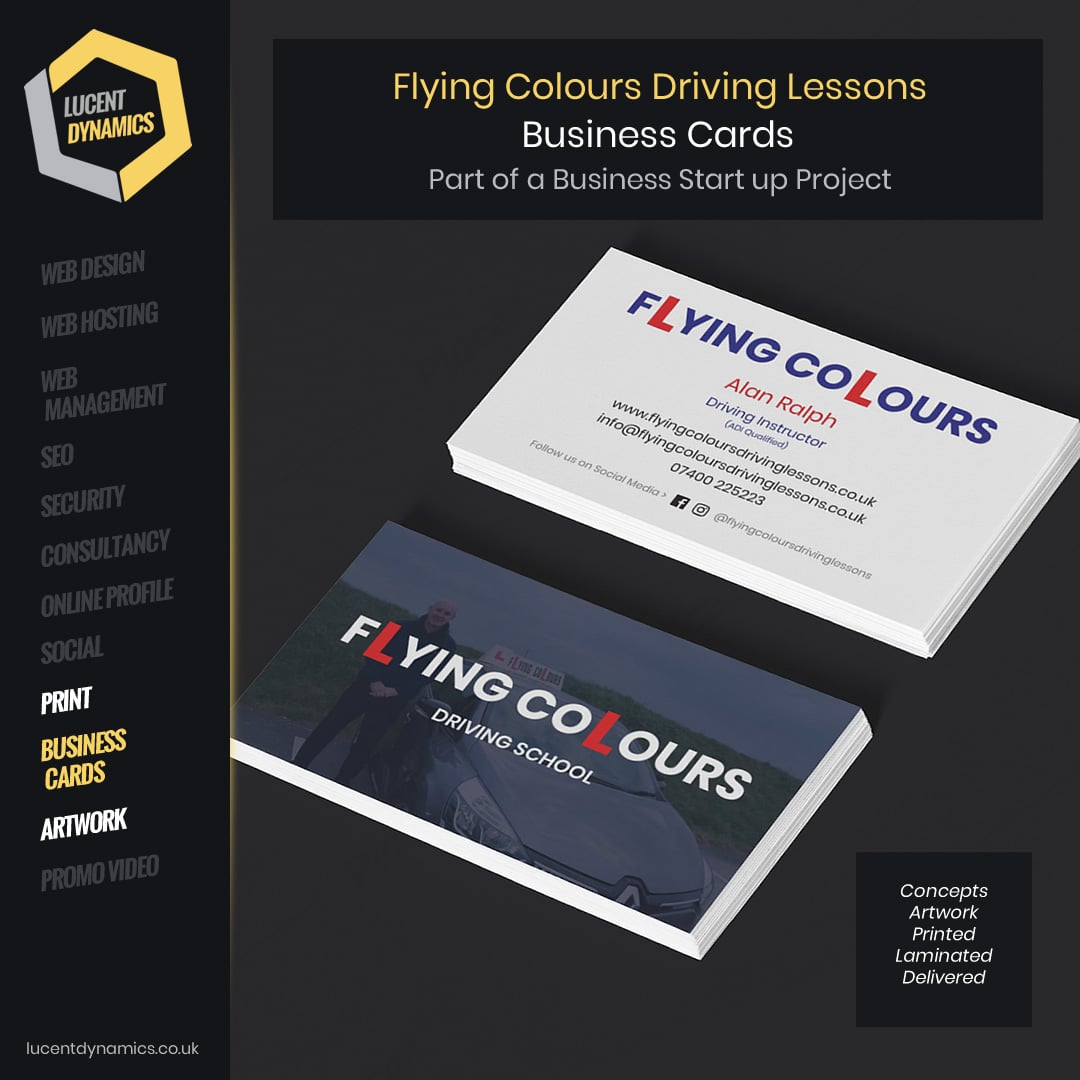 Social Media Management
We created a facebook page for Flying Colours, entered all the relevant business information and created a professional looking profile photo plus an attention grabbing cover photo.
Flying Colours are trained in how to use their page and importantly how to grow and promote their business on facebook by engaging with their clients.
We provide support to Flying Colours regarding Facebook posting and advertising and create images as and when they are required.