Finance Jeanie website designed, built & maintained by Lucent Dynamics
The Website
The Plan
Finance Jeanie is a new UK based specialist bridging finance broker providing short term finance solution throughout the UK.
Brian from Finance Jeanie approached us with a blank slate and a need to setup a business with an online presence.
After an initial phone consultation and various phone calls, we created a plan of action broken down into steps and gave Finance Jeanie a clear aim from square one. We set out achievable goals at certain timescales.
Services Offered
Logo Creation
Website
Social Media Accounts
Google Business Profile
Search Engine Optimisation
We simply needed to get Finance Jeanie started first, so we bought the domain, setup hosting and put online an initial website holding page.
Google profile listings were created, and we began the search engine indexing process whilst we built the main website.
The responsive multi-page CMS website is powered by wordpress and packs a lot of power underneath its exterior with built in powerful SEO techniques.
The launch has been a success and we are excited to bring new content, a working blog and mailing list to Finance Jeanie in the future.
Built, Hosted, SEO, Secured and Maintained by Lucent Dynamics - lucentdynamics.co.uk
Brian Quilter

Working with Dan at Lucent Dynamics was 1st class, he took me through everything step by step and offered great advice on how to execute a fantastic website design with everything required for a platform for success. I look forward to working with Dan in the future and strongly recommend Lucent Dynamics superb services.
Business Cards
Finance Jeanie's business cards have a gold foil scodix finish with a soft touch lamination. Full colour double sided on 450gsm board.
We opted for a scodix gold foil print due to the gold lamp logo. The gold logo, text and social media icons glistens on the scodix layer.
The feel of the card is so smooth due to the soft touch finish.
Spec:
- Soft touch lamination for a luxury smooth finish
- Scodix gold foil finish to give the logo a shiny gold effect
- Full Colour
- Double Sided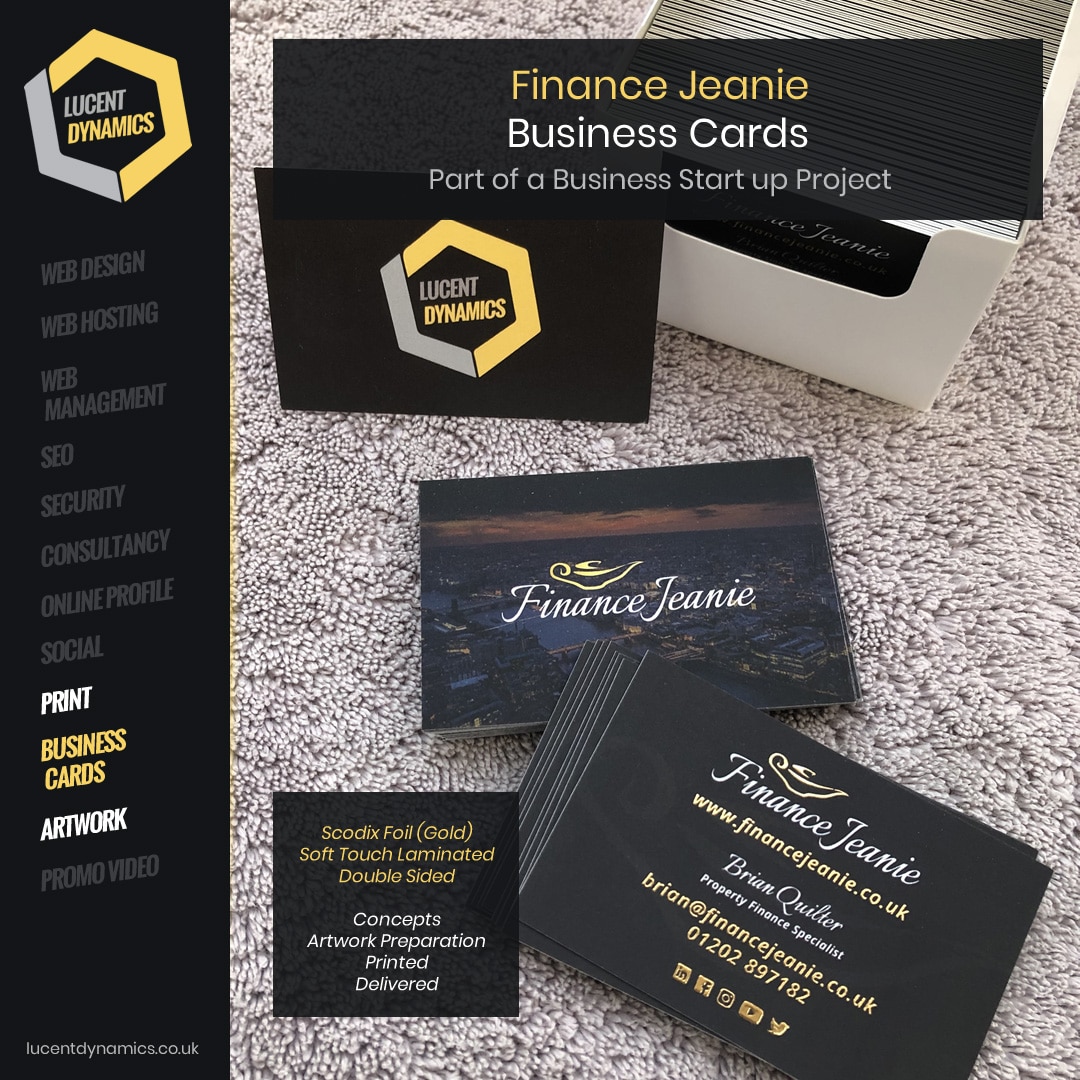 Social Media Management
We setup a professional looking Facebook page for Finance Jeanie to kickstart their social media presence.
We assist with post creation and optimisation alongside training and advice to help the Finance Jeanie team manage aspects of their social media profiles when they need to.