656bb2a67e4db
Weldon Funeral Services website designed, built & maintained by Lucent Dynamics
The Website
www.weldonfuneraldirectors.co.uk
The Plan
Weldon Funeral Services are a family run team of funeral directors covering the areas of Bournemouth, Poole, Christchurch.
Mandy and Anne's came to us with a goal in 2020 to improve their online business profile and desired a higher position in the search engines.
We set to work breaking down the whole picture into smaller actionable tasks. The project timescales were set with the most important pain point set as the first task - the website.
Services Offered
Business Cards
Website
Social Media Accounts - Facebook
Google Business Profile
Search Engine Optimisation
GoDaddy Website Help
Initial GoDaddy Website
Back in 2019 Weldon Funeral Services originally came to us after buying their own domain name and became overwhelmed using the GoDaddy website builder. Needing some help we were tasked with creating a website using GoDaddy's web builder. We created a nine page website adding an about page alongside all the services offered, plus contact and privacy policy pages.
A fix to their email system was required due to their private email being accessed externally. We located the problem and rectified the issue.
Stepping up the Website Game
Roll on 2020 Weldon Funeral Services needed to see improvements to their online business profile.
A new website was highlighted straight off the bat due to the limited features and design options of a GoDaddy website.
A custom approach was identified which would open up greater possibilities in terms of design, features and general access to all aspects of the website and domain.
Domain Name Issue, New Temporary Website and Site Move
The domain name was simply transferred to our hosting platform from GoDaddy, this was to get full access to the website domain.
The Weldon Funeral Services domain name was identified as problematic due to very similar domain name extensions having been owned by other sources. A new domain name was researched and then setup as the new website domain.
A temporary website was setup alongside a security certificate within a day.
The previous domain name was redirected to the new website domain name and we used the google site move tool to keep traffic unhindered.
Search Engine Indexing
Google business listings were created and we begun the search engine indexing process whilst we got to work brainstorming ideas for the main website.
The New Website
The responsive multi-page CMS website is powered by wordpress and packs a lot of power underneath its exterior with built in powerful SEO techniques.
The website content was thoroughly expanded with new pages. This included fresh new text content, photos of the business. All in a bid to improve the companies SEO.
Built, Hosted, SEO, Secured and Maintained by Lucent Dynamics - lucentdynamics.co.uk
User Comments
Weldon Funeral Services asked for some feedback to their new website and we were thoroughly pleased by the positive comments.
"An easy to use clear Website"
"it's absolutely great, well done"
"Brilliant. Clear, concise, easy to move round it. Excellent job"
"Looks really good Easy to follow and informative"
"Just perfect!"
"Very good, very professional."
"Brilliant website with lots of useful information"
"Well done, it looks great, easy to navigate, very caring and compassionate"
"Very good very professional but very personal too"
"Explains your excellent service well !"
"Very informative, very professional and very compassionate. You get my vote girls. Well done"
"Great website. Very professional and caring."
"Very professional, give all information that anyone could need, it shows how caring you are xx"
Business Cards
The design of the card matched the website theme and both Anne and Mandy required a set of 500 cards. We suggested a higher quality business card.
Spec:
- Soft touch lamination for a luxury smooth finish
- Scodix finish to give the logo a raised shiny effect
- Full Colour
- Double Sided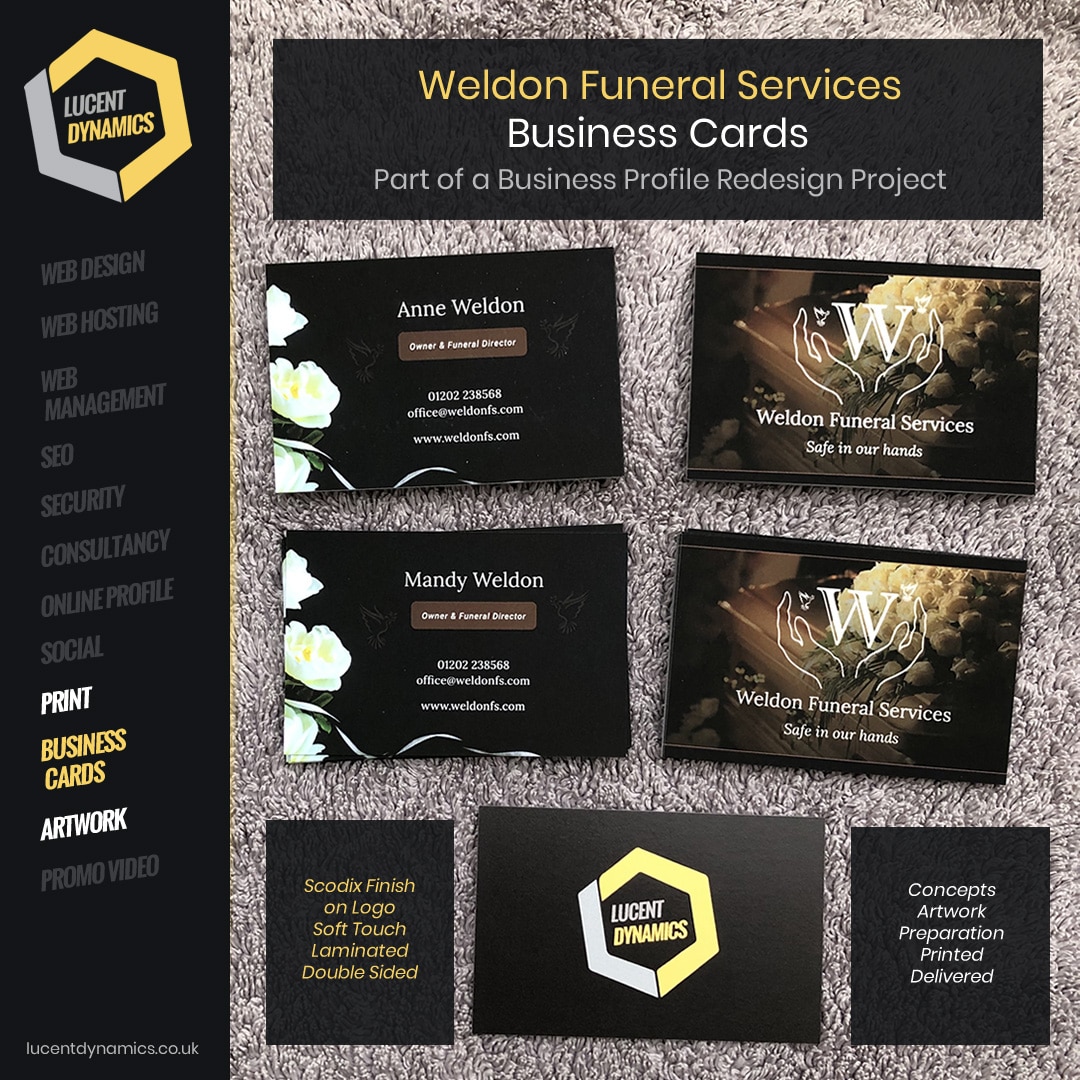 Anne & Mandy Weldon

Absolutely brilliant service. Dan really does know his stuff and our website is amazing. The positive feedback we have been given is testament to that. Also our business cards arranged and designed by Dan are fantastic. We'd never use anyone else. Thanks Dan!
Social Media Management
As part of the project we created a Facebook page for Weldon Funeral Services.
Profile and cover images were made to facebook specifications. We also ensured all settings and fields were professionally correct.
We provided facebook page training to Anne and Mandy with guidance and various tips on how to grow their business further using social media.